For nearly 30 years, the Halifax Chinese Language School (HCLS) has helped members of the local Chinese community stay in touch with their culture, language and traditions – supported in this quest by Dalhousie.
Jinyu Sheng (right), Dal Professor in the Department of Oceanography and director of HCLS, co-founded the nonprofit school for university employees and their families in 1993.
"I was a post doc at university, and we had several young families who were also employees working at the university and who had chosen to keep their culture and learn Chinese," he recalls. "We didn't have a school like that in Halifax, so we decided to start this kind of school. Not only teach Mandarin, but also math.
Over the years, Dalhousie has supported the school in many ways, including providing classrooms, security, and sometimes cleaning.
The school often draws as many as 120 elementary through high school students in a single weekend. Dr. Sheng estimates that about 50% of these students end up enrolling as future students at Dal.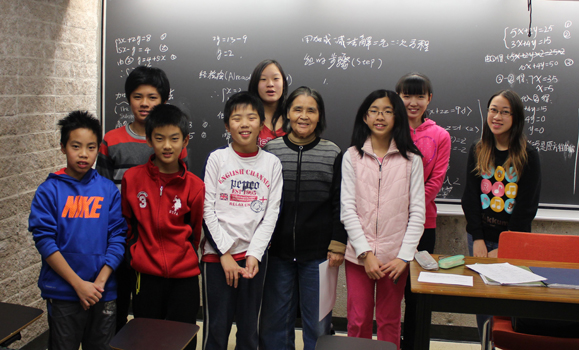 Students are also offered mathematics courses as part of the HCLS. (Photo provided)
cultivate culture
For one student, Sean Wang, a medical doctor (MD) candidate in Dal's Class of 2024, the experiences at HCLS have been invaluable.
"I attended the Halifax Chinese Language School for many years with my mother, Shuli Wang, as my teacher. There was not just classroom learning, but lots of concerts, musicals, dances, events, and most importantly, amazing food," Wang recalled. .
"I didn't understand the value of having school every Sunday. As I get older, I realize how wonderful it was to learn about my family's culture."
Patricia Lee Men Chin, a university lecturer in the Department of French, saw her two children attend HCLS for a few years.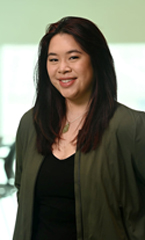 "From a historical point of view, it is typical of Chinese immigrants to North America to establish Chinese language schools, mainly in Chinatowns, in order to preserve Chinese language and heritage. These schools are an integral part of the immigrant experience, and parents who volunteer to teach and organize activities provide an invaluable service to the community. I am grateful as a parent and faculty member that Dalhousie has been part of this community effort," says Dr. Lee Men Chin.
Dr Lee Men Chin's daughter, Emma Leeshanok (pictured left), attended HCLS when she was a pre-teen. She is graduating with a bachelor's degree in engineering and science from Dal next month and has already started working on her master's degree in industrial engineering at the university.
"Coming from a family that didn't immigrate directly from China, my parents don't speak Chinese," Emma explains. "I found the school to be great for giving me the chance to connect and engage with my ancestral culture in a way that I don't think I could have otherwise."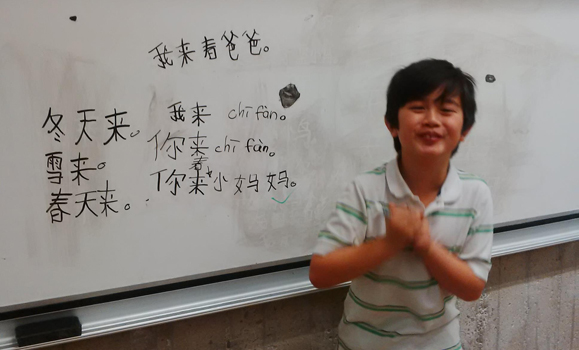 "I remember how happy and proud my son, Alex, was when he was able to write a complete sentence in Chinese on the board: 'I'm coming to see my baby mama'," recalls Dr. Lee Men Chin. (Photo provided)
Related Reading: Chinese Connections – Dal Hosts China Day
Global and local connections

While the school has realized much of its original vision over the past 29 years, Dr Sheng says it continues to find new ways to renew the Chinese cultural bond, including a summer initiative and online course.
"We have also organized several Root Seeking summer camps in a community in China. Thus, we have many students who join us to go to China during the summer to improve their languages," says Dr. Sheng .
The school traveled with Root Seeking in 2008, 2010, 2013 and 2018, with an online camp in 2020 due to COVID-19.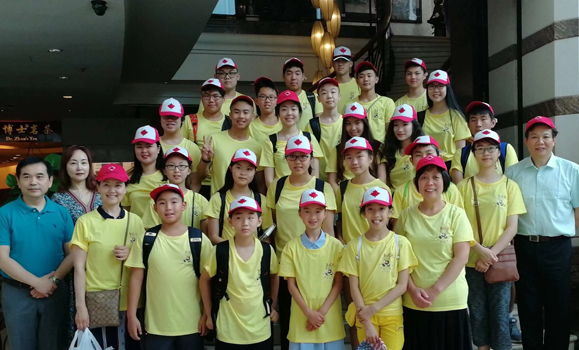 A summer camp. (Photo provided)

The school also plays a prominent role in Halifax's Chinese community.
"We have a very good reputation in the local community. We are also one of the co-organizers of the donation campaign to support the QEII Health Foundation during the time of the pandemic," says Dr. Sheng.
While Dal began by donating two classrooms to the school in 1993, in 2020 the university was donating six classrooms to HCLS free of charge. Dal has since started charging a small fee.
"I would like to thank the university for over 29 years of supporting the school. I think the mutual benefit between the local community and Dalhousie is very important," says Dr. Sheng.