Melinda Harris has been making a trip to Italy every summer for several years. But it wasn't until she started studying Italian at the Amici school that she began to appreciate it in a different way.
"Before learning Italian, I don't think I really appreciated the culture," she says.
For seven years, Harris made the one-hour drive from Wilmington to O'Bryonville School once a week for the two-hour class.
"I wouldn't be where I am today if I didn't have the Amici school," she says. "I give them all the credit. The teachers…they're patient, they're thorough.
They are also native speakers, which makes a difference, according to Harris. She reads Italian every day now and tries to listen to Italian news at least once a day to maintain her skills.
The Amici School is a small Italian oasis in the sea of ​​German heritage that is Cincinnati. It was founded in 1984 by a group of four friends: Federico Bilotti, his wife Agatha Da Vita, and Paul and Linda Wallpe. The idea for a school came from second-generation Italians who wanted to get closer to their cultural roots, Bilotti wrote in an email. He now lives in Aprilia, Italy, a small town in the Lazio region.
The friendships that developed between students and teachers made Bilotti think of the word "amici" ("friends" in Italian) as an apt description of what he and Paul Wallpe wanted to do: bring together newly emigrated Italians in a fun promotion of their Italian culture.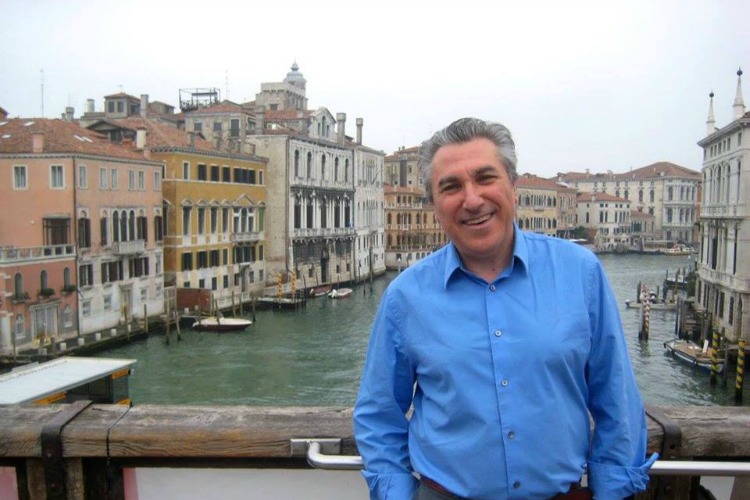 Michele Alonzo in Italy
By 1986 the group was too large to stay in their original makeshift location and they moved to Sacred Heart Church in Camp Washington. Bilotti was transferred to Europe in 1991 and a nucleus of teachers, including the current director Michele Alonzo, continued to offer the courses. They were then held in East Walnut Hills, Clifton and Rookwood Commons before landing at the Academy of World Languages ​​in O'Bryonville, where it has been going on for ten years.
The Amici school also has partnerships with "sister schools" in Italy in Siena, Sorrento, Todi and Recanati.
Alonzo, who has been a director for 20 years, said he has certainly seen an increased interest in learning Italian in recent years, as well as an increase in dual citizenship applications. The average number of students is 40, divided into four levels from beginner to advanced. Classes are filling up faster and the mailing list he has created is growing every year. The school's Facebook page has 1,500 followers.
There have been students who have traveled to Italy in the city of their ancestors, some with just basic Italian and others who have studied longer, and even taken courses in Italy.
"Some students have told me that they use the Italian learned at the Amici school to get around towns, ask for information, order at restaurants," says Bilotti. "They are very excited when they can use the vocabulary and expressions learned in class."
A small percentage attend the courses because they do business in Italy or work for companies linked to the country.
"I think a lot of people also like the social aspect of the Italian lessons at Amici school," says Alonzo. "They meet people with their interests, make friends, sometimes hang out after class. All this is an important element.
For retiree Gene Pancheri, who often traveled abroad for work, learning Italian was something he had just done at work and at the University of Cincinnati. Then he found the Amici school and it got a little more serious.
"It was native speakers, nice people, good times," he says. He now has dual Italian-American citizenship, a process he began 16 years ago, and he has written a book about his family's origins in northern Italy.
Pancheri travels to Italy three or four times a year and he almost always visits Trentino, where his family is from. Much of the research for his book involved reading church records. Fortunately, he was able to talk to locals who helped him translate and transcribe these documents.
"I discovered that my family had lived in a castle," he says. "We were captains of the castle for almost 200 years."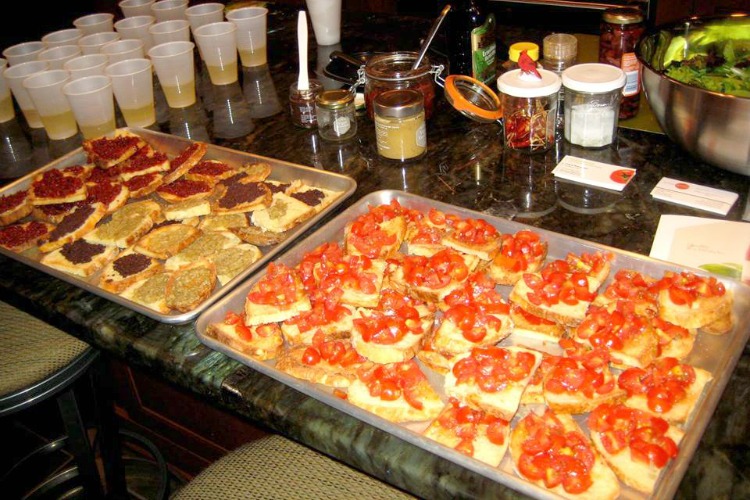 Students prepare bruschetta during a cooking class.
Pancheri praised the school for the classes, yes, but also for the extracurricular activities that come with the sessions. "Michele organizes cultural activities like Italian cooking classes or a movie night. He is very good at providing the total Italian experience," he says. "It's one of the things that sets the school apart."
New student Maria Barrow realized that studying Italian with an app on her phone wasn't enough for her. She went to Italy last year and, she says, "I couldn't get a single word out of my mouth. I had never had a conversation. It was just me on my phone.
Fast forward to last month when Barrow enrolled in a language school in Bologna. "I went there because I had done badly when I was there."
She was impressed with the progress made by her classmates after just two weeks. So she decided to find a school in Cincinnati. An internet search returned School Amici and she will be attending the next session, which begins January 9.
"I like the idea of ​​showing respect to the people of a country by learning their language," Barrow says. "The most important thing is that I tried on my own and realized that I couldn't do it. I did a good job learning to hear it.
As Pancheri mentioned, school is not just about lessons. In addition to cooking classes and movie nights, Alonzo hosts picnics and potlucks with a group of Italians who live and work in Cincinnati to make students feel part of the Italian community. It organizes a school exchange program where families host Italian students for a school year.
Alonzo is also a resource person for dual citizenship applicants.
"From year to year, the Amici school has become a point of support for everything Italian," he says. "And the power of word of mouth is incredible. We have students from Dayton, Wilmington, Springboro, Mason and Lawrenceburg.
For Paul Carmichael, who has been attending the Amici school for five years, he wants to learn the language for several reasons.
"It's the language of my ancestors and I heard it all the time growing up," he says. "Our family still practices our Italian traditions."
His wife is 100% Italian but does not speak the language. Their daughter, who studied Italian and lived in Rome in 2011, speaks it very well.
"We visited my wife's family in Abruzzo and they spoke little or no English," he says. "We had to communicate with them in Italian. With each visit, the conversations got a little better, as my Italian improved.
Eric Lombardo has been taking lessons for ten years with friends Dominic Lemma and Michael Trotta. He has been to Italy five times and speaks the language as much as possible when he is there.
"It's also very important to get advice on the culture and customs of native Italians," he says. "I have enjoyed all the teachers I have had over the years and love reconnecting with them."
Bilotti speculated that perhaps the growth in popularity of the school and of Italian in general is the love of the good life. "Italian has become synonymous with good food, innovation, poetry, exploration, holiness, art, good wine, fast cars; in a nutshell: satisfaction and naturally we all seek satisfaction in life," he says.
The Amici School is located at 2030 Fairfax Ave, Cincinnati 45207. The next session begins on January 9, 2019. For more information, call 513-681-0224 or register at École Amici.